Outside In: A Political Memoir
Featuring Hamilton's own Lyla Miklos* in conversation with Libby…
Sunday, June 9, 2 – 4 pm,
Music Hall, New Vision United Church,
24 Main St. W. Hamilton, Ontario L8P 1H2

Join activist and politician Libby Davies for the launch of her memoir, "Outside In."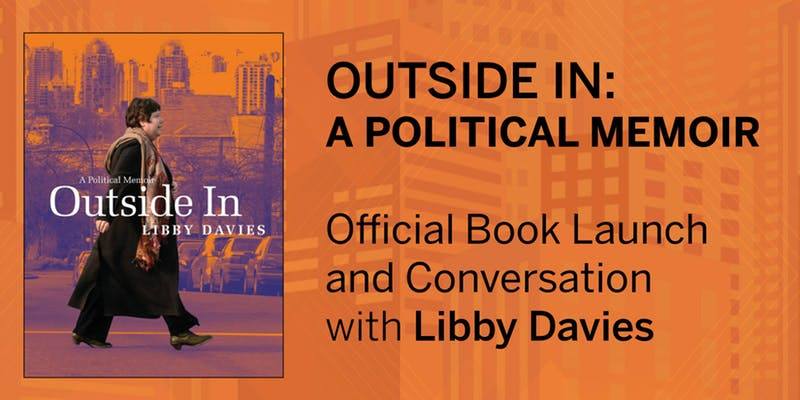 About the book
"In a time of peak cynicism about the political class, Libby has always been the exception. For decades, she has been a human bridge between the passions of activism and the pragmatism of the electoral sphere. It is no surprise then, that this book is uintessential Libby: principled and brave, full of energy and generosity."
-Naomi Klein
---
Click Here
to listen to an interview with Libby Davies about the book!
---
For more than four decades, Libby Davies has worked steadfastly for social justice both inside parliament and out on the streets. At nineteen, Davies became a community organizer in Vancouver's Downtown East Side. She went on to serve in municipal and then federal politics, advancing to the role of Deputy Leader of the New Democratic Party.
Looking back on her remarkable life and career with humour and honesty, Davies addresses the challenges of her work against homelessness, championing sex workers' rights, and ending drug prohibition. With candid reflections on her own work and those of her colleagues and activist allies, she illuminates the humanity at the core of each issue. Davies' astute political analysis offers an insider's perspective that never loses touch with the people she fights alongside. "Outside In" is both a political and personal memoir of Davies' forty years of work at the intersection of political and social change.
Libby devotes an entire chapter to Palestine.
About Libby Davies
Libby Davies is a Canadian politician from British Columbia. She moved to Vancouver in 1968 and served as a city councillor from 1982 to 1993 and then represented the federal riding of Vancouver East from 1997 to 2015 under the New Democratic Party banner. She was named a Member of the Order of Canada in 2016 and is Canada's first openly lesbian MP.
*About Lyla Miklos
Host & Producer of 101.5 FM The Hawk's Centre Stage, a sex positive queer feminist labour activist, broadcast journalist, creative, education worker, lay chaplain, publicist and special events organizer.
About the venue
New Vision United Church, 24 Main Street West, is located across from Hamilton City Hall, where parking will be free on Sunday afternoon. In addition, the wheelchair-accessible church is adjacent to the MacNab Street Transit Terminal. The book launch will take place in the former sanctuary of the church which has been converted into a music hall.
New Vision United Church became an Affirming Ministry of the United Church of Canada on January 31 2016:
"We are a community of Christian faith that extends acceptance, offers support, and seeks justice for those who are gay, lesbian, bisexual, queer or transgender."
Free admission, refreshments. Free parking at Hamilton City Hall. All are welcome.

Libby will speak and autograph copies of her book which will be available for sale at $25.
Join the Facebook events page: https://www.facebook.com/events/562061630985244/