Wondering what to do next after attending the Meng Wanzhou panel (video will be posted soon)?
Perhaps you should join the March 5 solidarity event with Venezuela?
1st Monthly On-Line Picket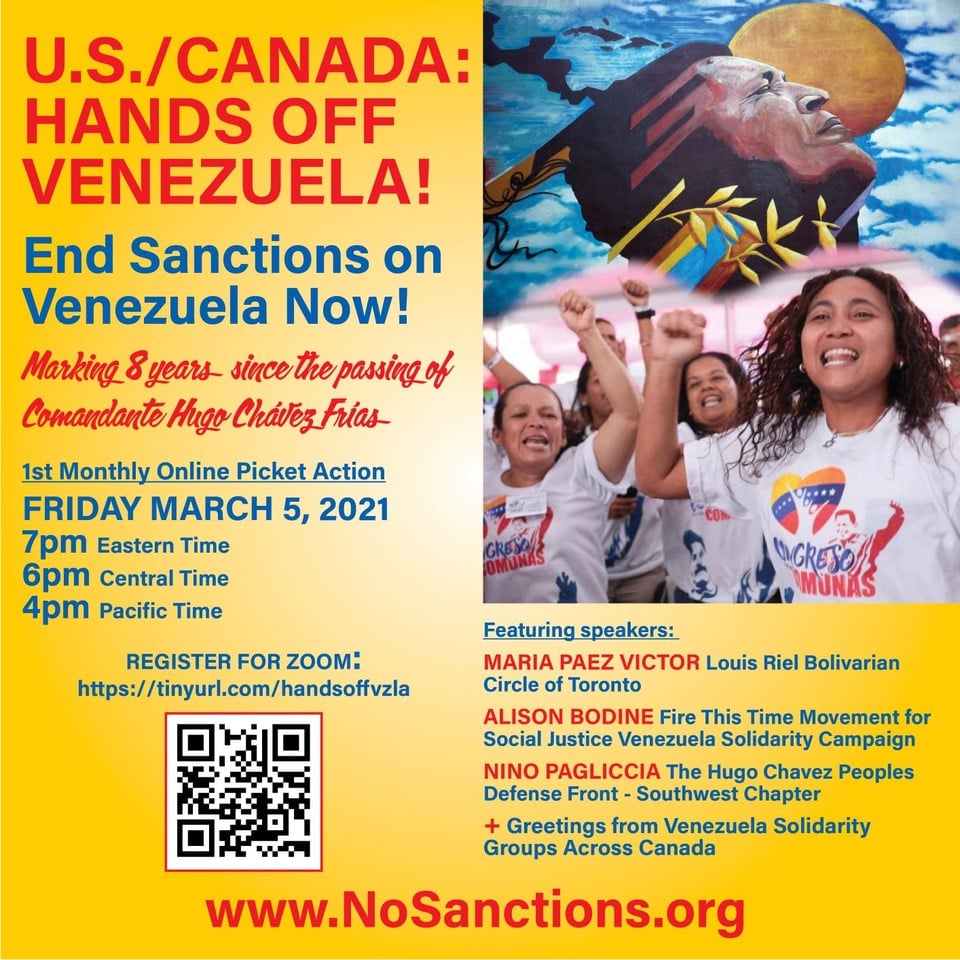 LINK
First Monthly Online Picket Action!
Marking 8 years since the passing of Comandante Hugo Chavez Frias
U.S./CANADA: HANDS OFF VENEZUELA!
End Sanctions on Venezuela!
#TrumpUnblockVenezuela! #TrumpDesbloqueaVenezuela! #SanctionsKill
Friday March 5, 2021
4pm Pacific Time / 7pm Eastern Time
Register online at: https://tinyurl.com/handsoffvzla
>>> Featuring Speakers:
MARIA PAEZ VICTOR – Louis Riel Bolivarian Circle of Toronto
ALISON BODINE – Fire This Time Movement for Social Justice Venezuela Solidarity Campaign
NINO PAGLICCIA – The Hugo Chavez Peoples' Defense Front – Southwest Chapter
+ Greetings from Venezuela Solidarity Groups Across Canada
> The first online picket action in solidarity with Venezuela has been called by many Venezuela solidarity organizations and individuals across Canada
For more information contact: info@nosanctions.org
*** Everyone is encouraged to make protest signs, display banners, or wear t-shirts in solidarity with Venezuela. These can be displayed in a group photo at the end of the online picket!
1)    The program will begin with invited speakers and greetings.
2)    In concluding the online picket, those who wish to participate in the photo will be able to turn on their cameras to join in! More specific instructions will be given by co-chairs during the online picket.
We are also inviting you to sign-on to this important letter "Canada's Failed Foreign Policy for Latin America and Venezuela should be Abandoned, not Re-furbished" here: https://nosanctions.org/venezuela-sanctions/
March 5, 2021 marks the 8th anniversary of the passing of Hugo Chavez, the leader of the Bolivarian revolution and President of Venezuela until he passed in 2013. His legacy continues to live on in the struggle of the people of Venezuela in defense of their independence and sovereignty. Every day, the people of Venezuela stand up to a brutal U.S.-led economic and financial blockade which is supported by Canada and the European Union. This has made access to food, medicines, and basic goods increasingly difficult, especially during the ongoing Covid-19 pandemic.
As people living in the U.S. and Canada, we have the responsibility to stand with the people of Venezuela against U.S. and Canada sanctions, war and threats against Venezuela.