Below, we are reproducing Thursday's article from Stoney Creek News:
'Free Meng Wanzhou' picket held in Stoney Creek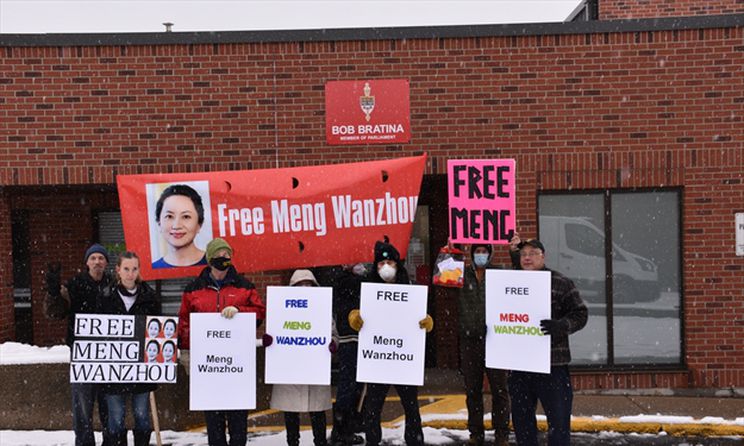 Thursday, December 3, 2020
Canada shouldn't risk a new Cold War with China by continuing to detain Huawei chief financial officer Meng Wanzhou, says Ken Stone, treasurer of Hamilton Coalition to Stop the War.
Stone was among a group of about 10 coalition members who staged an information picket outside Liberal MP Bob Bratina's Stoney Creek constituency office on Dec. 1. The picket was one of several across Canada on the two-year anniversary of Wanzhou's arrest in Vancouver on a U.S. warrant.
Wanzhou, 48, faces charges of bank fraud for allegedly misleading HSBC about Huawei's business dealings in Iran. Wanzhou, who has maintained her innocence, is currently fighting extradition to the U.S. while under house arrest.
Stone said in arresting Wanzhou, Canadian officials bent the knee to U.S. President Donald Trump, who has stated he viewed Wanzhou as a bargaining chip in a trade war with China.
Meanwhile, Wanzhou's detention has soured relations between Canada and China, said Stone.
"It affects Canada's relationship with China, which is the fastest-growing economy in the world and Canada's second-largest trading partner," said Stone.
As a result, the Chinese have held off purchasing Canadian exports like canola, lobster and pork. Tensions also impeded a Chinese-Canadian joint effort on a COVID-19 vaccine, Stone added.
Also, federal government efforts to prohibit Huawei from participating in the deployment of a 5G network could threaten 1,300 good-paying jobs at Huawei's Canadian operations, Stone suggested.
"There's a lot at stake here," said Stone.
The Hamillton Coalition to Stop the War is calling upon Canada's justice minister to use his discretionary power to free Wanzhou.
Doing so, said Stone, might lead to the release of Canadians Michael Kovrig and Michael Spavor.
Dubbed the two Michaels, the men remain detained in China, where they have been accused of spying. The charges are widely regarded as retaliation for Canada's arrest of Wanzhou.
"If Meng is released now or soon, the Chinese would look very favourably on the idea of returning the two Michaels," said Stone. "That's my personal point of view. I do not represent the Chinese government."
If a judge in Vancouver finds there's sufficient evidence to extradite Wanzhou to the U.S. to face a potential 150 years in jail on five counts of fraud, Stone believes relations between Canada and China would take a further nosedive.
"Does Canada really want to be dragged into a new Cold War with China over this silly issue, which only is harming Canada?" Stone said.
Original Article:
https://www.hamiltonnews.com/news-story/10281296–free-meng-wanzhou-picket-held-in-stoney-creek/