The Hamilton Coalition To Stop the War endorses this action and requests your participation this Friday, 11 am, outside Minister of Labour Filomena Tassi's office, 1686 Main West, Hamilton, L8S 0A2. There will be similar pickets in about 22 cities from coast to coast to coast.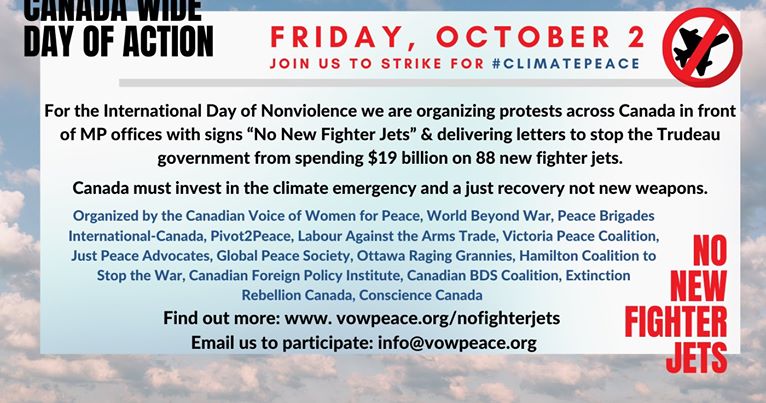 Fighter jets are offensive weapons. If the Government of Canada were concerned about defending Canada from attack, it would purchase different weapons systems. Even past Deputy Minister of Defense, Charles Nixon stated Canada does not need fighter jets as Canada does not face any credible threat and they are not necessary to protect our populace or sovereignty. The reason Trudeau is buying these weapons is to continue Canada's subservient role to the USA in NATO by helping the US empire try to maintain its role as the world's super-power. In the past, Canadian fighter jets bombed the former Yugoslavia, Libya, Iraq, and Syria.
If you object to this role for Canada and resent your tax dollars financing the US war machine, then join us this Friday!
---
Facebook events page: https://www.facebook.com/events/727477604650078/
11 am, Friday, October 2, 2020
in front of MP Filomena Tassi's (Trudeau's minister of labour) constituency office
1686 Main West, Hamilton L8S 0A2
Several HSR buses stop right in front of the building. Ample free parking is nearby. At this brief picket, we ask that you bring a sign (NO NEW FIGHTER JETS!) and a mask. We will space ourselves according to social distancing rules. For more info, please call Ken at 905-383-7693 or kenstone@cogeco.ca.
Hamilton Coalition To Stop The War:  hcsw.ca