Interested readers may wish to know that The Canada Files recently published an article about our new campaign to Free Meng Wanzhou.
You can read the article, at the Canada Files, below:
https://www.thecanadafiles.com/articles/hacfm
It is also being reproduced here:
Hamilton Anti-War Coalition launches campaign calling for release of Huawei CFO Meng Wanzhou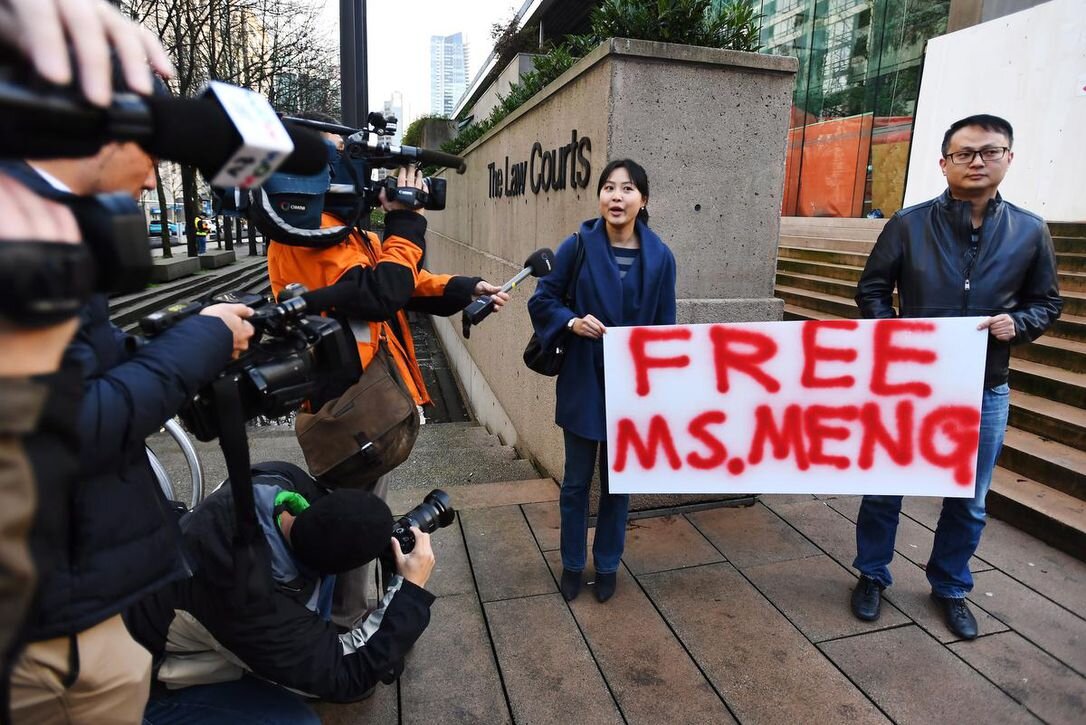 October 7, 2020
Written by: Daniel Xie
On September 29, 2020, Hamilton Coalition to Stop the War launched what they a mass grassroots campaign directed against the Canadian government's imprisonment of Huawei Corporation CFO Meng Wanzhou, particularly in the wake of Meng facing yet another court appearance in Vancouver. This campaign includes parliamentary petition e-2857 sponsored by NDP MP Niki Ashton, a press release, and a plan for organizing a cross-Canada day of action on Tuesday, December 1, 2020, the second anniversary of her arrest.
Meng Wanzhou was originally arrested by the RCMP on Canadian soil in response to US extradition requests for fraud and conspiracy to commit fraud to circumvent US sanctions against Iran; these charges were issued by the U.S. District Court for the Eastern District of New York on August 22, 2018. As of now, the charges against her has yet to be cleared, and CSIS has refused calls from Meng to view their files on her and examine the exact justifications used by the Canadian government to facilitate her arrest, justifications that many believe to have been highly politicized.
Parliamentary petition e-2857 backed by the Hamilton Coalition states that Meng Wanzhou, the Huawei Corporation CFO, committed no crime in Canada, and that her arrest was politically motivated simply because Trump declared he might release Meng if he secured a favourable trade deal with China and because he told John Bolton that Meng was "a bargaining chip" in his negotiations. It further notes that all the countries in which Meng Wanzhou travelled through refused US requests to extradite her, and this may have influenced US senators Marco Rubio and Ann Wagner of the Select Intelligence Committee to advise Trudeau to find ways to exclude Huwaei Corporation from the deployment of 5G technology in Canada, and further expresses concern that the arrest of Meng Wangzhou is tied to efforts of the US government to enforce unilateral and illegal sanctions against Iran, and provides no benefits to Canada while contributing to a growing new cold war with China.
The petition calls on the Canadian government to:
1) Cease extradition proceedings against Meng and release her immediately;
2) Protect Canadian jobs by permitting Huawei Canada to participate in the Canadian deployment of a 5G internet network; and
3) Initiate a long-overdue foreign policy review to develop an independent foreign policy for Canada.
As stated in the abovementioned press release, Meng Wangzhou has been under house arrest in Vancouver for almost two years now and is the object of extradition proceedings against her by the Government of Canada at the request of the USA. The press release further expands on the links between Trump's sanctions on Iran and the new Cold War with China to the arrest of Meng Wangzhou on Canadian soil. According to the press release, following Trump's withdrawal from the Iran Nuclear Deal and his subsequent re-imposition of sanctions on Iran, the US has sought to use Meng Wangzhou's arrest as a means to test the waters regarding forcing other countries to abide by domestic US laws through threat of diplomatic coercion.
In the case of Meng's arrest, the US wanted to use her as a bargaining chip in securing a better trade deal with China, or even a US-China trade deal that proves to be detrimental for China while disproportionately benefitting the US. The US may have also issued the arrest order in order to punish China for not kowtowing to the sanctions it placed on Iran. On Jan, 28, 2019 the New York Times reported that the Justice Department unveiled sweeping charges on Monday against Huawei and Meng Wanzhou, accusing them of orchestrating a decade-long attempt to steal trade secrets, obstruct a criminal investigation, and evade economic sanctions on Iran.
The Negative Impact of Meng's Arrest of Chinese-Canadian Relations
The Hamiliton Coalition's press release notes that the arrest of Meng Wangzhou and the subsequent deterioration of Canada-China ties has proven to be economically detrimental for Canada. According to the press release, China, which is Canada's second-largest trading partner after the USA, banned importation of Canadian canola, pork, and lobsters. This has had a severe effect on the livelihoods of thousands of Canadian farmers and fishers dependent on imports to China. The socioeconomic impact may be even worse, since 1300 employers in Canada working for Huawei potentially face unemployment if Huawei is prevented from operating in Canada. Canada's adherence to US foreign policy may end Chinese-Canadian cooperation towards working towards a vaccine for COVID-19. Canada's technological expertise may also be stifled, with Huawei technologies, according to the press release, heavily invested in contributing its advanced, made-in Canada, R&D expertise to Canada's 5G network.
While not mentioned in the press release, Canada's continued efforts to hold Meng Wangzhou as their prisoner have also impeded Canada's efforts to secure the release of Michael Kovrig and Michael Spavor, whom have been detained in China on espionage charges since December of 2018, not long after Canada's arrest of Meng Wangzhou at the behest of the US. China has made it clear that they would only consider releasing the men if Canada releases Meng Wangzhou.
Meng Wangzhou's Arrest in the Context of the Encroaching Second Cold War
The press release mentions that Meng's arrest may have been tied to efforts by the Five Eyes Intelligence agency, which Canada is a part of along with the US, Britain, Australia, and New Zealand, to prevent the spread of Chinese-led innovation and technology globally on the basis of the supposed intelligence threat presented by Chinese tech companies. Huawei is a target of these efforts because of its role in deploying 5G internet networks.
These attempts to weaken China's influence in technological innovation were evident in a letter by Marco Rubio and Ann Wagner advising Trudeau to exclude Huwaei Technologies from the deployment of 5G technology in Canada on the basis that it would compromise the security of the network through the deployment of spyware and undercut the profitability of domestic US and Canadian tech firms. No evidence was provided for these claims. The press release notes that American concerns about Chinese technology threatening the security of its allies as rather hypocritical, given that since at least 2018 the US government has been pressuring its high tech firms routinely to build back doors for US intelligence agencies to access their encrypted devices.
Efforts by Trump to suppress Chinese tech companies seen as a threat to National Security have only escalated as of 2020, with the Trump administration on August 17 taking initiatives to restrict Huawei's ability to buy a wider array of chips made or designed with American equipment and software, further isolating it from the American market. Trump has not only gone after Huawei, but any form of Chinese technological innovation being distributed to the US. On August 6, Trump signed executive orders banning US "transactions" with popular video app TikTok to its parent company, ByteDance. These bans were originally supposed to take effect on September 20th, and later delayed until September 27th. On Sunday September 27, a Federal judge granted TikTok's request for a temporary injunction against calls to ban the app in the United States. The reason that Trump gave for attempting to ban TikTok was that it supposedly constituted a national security threat.
Growing Political Opposition to Canada's arrest of Meng Wangzhou
Even as various Canadian senators call for Canada to take harsher action to be taken against China and Communist Party officials, the Meng Wanzhou extradition case has faced significant political opposition within Canada. It has been accused by opposition politicians such as NDP MP Don Davies of being "politically tainted" by American interests, particularly the interests of Donald Trump.
On July 14, 2020, the Green Party Caucus called for all political charges directed against Meng Wanzhou to be dropped, claiming that Trump had exploited Canadian-American relations in order for Canada to comply to American demands revolving around the Meng Wanzhou case. The Hamilton Coalition noted that the events surrounding Meng's arrest and Canada's refusal to release her is tied to diplomatic coercion levied against Canada by the US in the form of a new 10% tariff on Canadian aluminum on Aug. 6, 2020 imposed by Trump, despite the signing of the USMCA free trade deal this year. Said tariff was removed a month later.
On June 24, 2024, CBC reported that 19 former parliamentarians and senior diplomats have penned a letter to Trudeau expressing opposition to the continued internment of Meng Wanzhou on Canadian soil. The signatories claim that by adhering to America's political dictates Trudeau has endangered Chinese-Canadian relations. By freeing Meng Wanzhou, Canada can work towards repairing these relations and also secure freedom for Michael Kovrig and Michael Spavor. The signatories of the letter included:
former Supreme Court justice Louise Arbour

former Liberal foreign affairs minister Lloyd Axworthy

former Conservative foreign affairs minister Lawrence Cannon

former Conservative senator Hugh Segal

former NDP leader Ed Broadbent
All in all, even as calls to take harsh action on China and partake in the Second Cold War grow louder within the Canadian political establishment (and even within ostensibly progressive-leaning opposition parties themselves), the efforts of the Hamiliton Coalition to take a stand against the internment of Meng Wangzhou, combined with opposition from various former Parliamentarians and diplomats, are a positive step towards fighting Second Cold War narratives being propagated by the US, Canada. and the rest of the Five Eyes to demonize China.
In marching lockstep with an "America First" foreign policy, Canada has contributed to the escalation of global instability to achieve the political goals of the United States, despite its pretenses of being a "peace-loving" and "diplomatic" nation; a facade that many countries have now seen through. Canada's refusal to free Meng Wangzhou is just the latest manifestation of its blind adherence to American geopolitical interests, and one that bears significant socioeconomic costs for Canadians as Chinese-Canadian economic ties continue to deteriorate. In response to Canada's subservience to America on the world stage, Canadians must resist the calls for a Second Cold War with China. We should support current efforts to restore diplomatic ties with China, such as the Hamilton Coalition's work to pressure the Canadian government to release Meng Wangzhou and develop an independent foreign policy that will allow Canada to be a genuine force for peace and diplomacy on the world stage.