US Elections 2020 and the Future of the World Order – A Panel Discussion with the International Manifesto Group
---
Dear Colleague,

We'd like to invite you to attend US Elections 2020 and the Future of the World Order: A Panel Discussion with members of the International Manifesto Group. The discussion will take Saturday November 7th, at 2:00PM-4:00PM GMT over Zoom.

US elections 2020 could produce clear results, or, as also seems likely, an uncertain outcome. Either way, they will mark another possibly momentous, milestone in the downward trajectory of the country's political and geopolitical economy of recent decades.

Developments in the US will reverberate around the world, affecting political trends within countries and the shape of the world order. They are certainly set to further accelerate China's rising prominence in it. Panellists with expertise on different regions and themes will dwell on the significance of the outcome.

Register here to attend this event!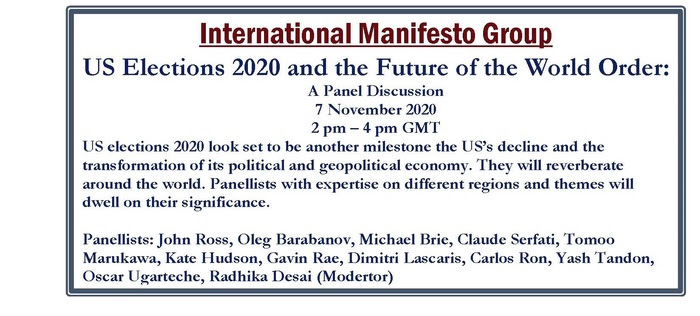 The International Manifesto Group began discussing the evolving political and geopolitical economy of the world order and its national and regional components at the beginning of the pandemic. It has members around the world, from North America to Japan.
While this event is free, we appreciate donations to the Geopolitical Economy Research Group. A suggested donation of $5 would be appreciated, as we it is a non-profit. Once you have registered, please donate here.
Moderator: Radhika Desai, Professor, University of Manitoba, Director, Geopolitical Economy Research Group
Panellists:
· John Ross, Senior Fellow at Chongyang Institute for Financial Studies at Renmin University of China.
· Oleg Barabanov, Programme Director, Valdai Discussion Club, Academic Director, European Studies Institute, MGIMO University. 
· Michael Brie, social philosopher, Institute for Critical Social Analysis, Rosa Luxemburg Foundation, Berlin.
· Claude Serfati, Associate Researcher, Institut de Recherche Économique et Sociale, France.
· Tomoo Marukawa, Professor, University of Tokyo.
· Kate Hudson, General Secretary, Campaign for Nuclear Disarmament (CND)
· Gavin Rae, Sociologist, Fundacja Naprzód, Warsaw.
· Dimitri Lascaris, Lawyer, Journalist and Activist, Canada.
· Carlos Ron, Vice-Minister for North America, Venezuela's Ministry for Foreign Relations
· Yash Tandon, Ugandan policymaker, political activist, professor, author and intellectual.
· Oscar Ugarteche, Professor, Instituto de Investigaciones Económicas, Universidad Nacional Autónoma de México.
· Radhika Desai, Professor, University of Manitoba, Director, Geopolitical Economy Research Group
Please share widely with your networks.
You can also keep up with GERG's work by visiting our website, and by following GERG on Facebook. For cutting edge analysis of current events, the crisis of imperialism and the emerging multipolar world order, follow New Cold War.
In Solidarity,
Brendan Devlin,
On behalf of the Geopolitical Economy Research Group