Below is the official media release for the event, "Why Meng Wanzhou Must be Released Now," premiering on September 22nd.
---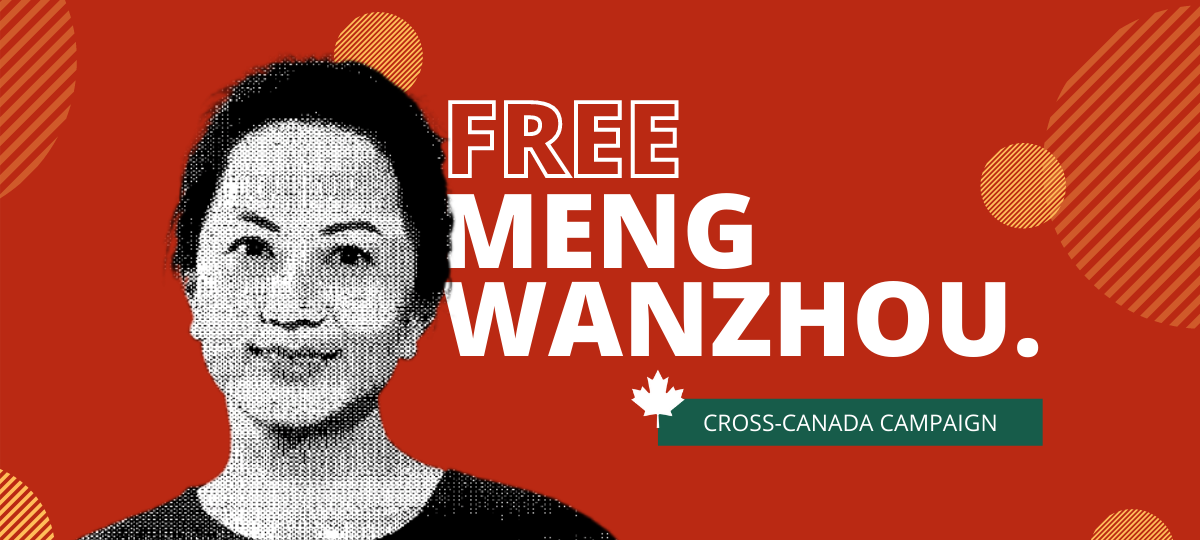 FOR IMMEDIATE RELEASE
Hamilton, ON
Monday, Sept 20, 2021
Post-Election Panel Discussion, "Why Meng Wanzhou Should Be Released NOW!
The Cross-Canada Campaign to FREE MENG WANZHOU is pleased to announce its post-election panel discussion, "Why Meng Wanzhou should be released NOW!" The Zoom panel will take place this Wednesday, Sept. 22, at 7 pm EDT and will be livestreamed on the Facebook page of the Hamilton Coalition To Stop The War.
"The formation of a new Government of Canada is a chance to change direction on the Meng Wanzhou file," observed Ken Stone, Treasurer of the Hamilton Coalition To Stop The War. "It's an opportunity for the new government to acknowledge its grave error in arresting Meng, offer an apology to China, and release Meng at once."
Bianca Mugyenyi, Director of Canadian Foreign Policy Institute, noted, "There was precious little debate among the party leaders on foreign policy during this election. A key issue overlooked was Trudeau's response to Trump's political request to extradite Meng, which legitimates both Washington's unilateral sanctions against Iran and its bid to extend its legal authority over other sovereign jurisdictions. The new Canadian government should set as a priority the creation of an independent foreign policy for Canada."
"Justin Trudeau's arrest of Meng torpedoed 50 years of good relations between Canada and China, established by Justin's father, PM Pierre Trudeau," remarked Jonathan Dai, President of the Canada-China Council for Cooperation and Development. "Meng should be released to reset relations positively between Canada and China for the mutual benefit of both peoples."
Miguel Figueroa, President of the Canadian Peace Congress, stated that "the arrest of Meng was a vehicle for the US government to try to drag Canada into a new cold war with the People's Republic of China. A cold war with China would have very serious adverse political and economic consequences for Canadians, including the very real possibility of war. Meng should be immediately released by the incoming Canadian government."
Panelists on September 22, 7 pm EDT, are John Philpot, international criminal lawyer, Montreal; Stephen Gowans, Ottawa-based political writer, author, and blogger; and Julie Tang, co-founder of Pivot To Peace and retired US judge. Admission is free.
A Q&A will follow for the people registered on Zoom at https://bit.ly/RELEASEMENGNOW
The sponsors of the panel discussion are World Beyond War, Canadian Peace Congress, Hamilton Coalition To Stop The War, Just Peace Advocates, Canadian Foreign Policy Institute, Mobilization Against War and Occupation, No Cold War, New Cold War: Know Better, Friends of Socialist China, International Action Center, Popular Resistance (USA) and the Canada-China Council for Cooperation and Development. The Canada Files is our official media sponsor
For more information, please contact Ken Stone of the Hamilton Coalition To Stop The War at kenstone@cogeco.ca or 905-383-7693 or 289-382-9008.
-30-
---
You can download a copy, below, in Microsoft Word format: