Join the Global Day of Action for No War On Iran!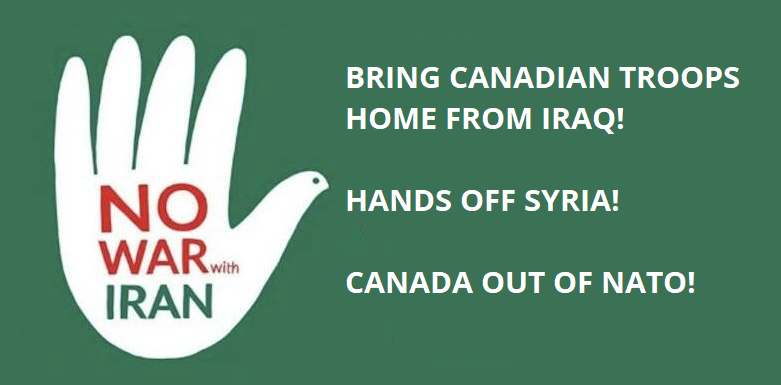 SATURDAY, JANUARY 25TH, 1 PM,
FEDERAL BUILDING, 55 BAY STREET NORTH, HAMILTON
JOIN MILLIONS AROUND THE WORLD IN OPPOSING ANY NEW MIDDLE EASTERN WAR!
The US assassination of Iranian Lt-Gen. Soleimani, while on an official diplomatic mission to Iraq, was a reckless, illegal, and reprehensible action which brought the Middle East to the brink of full-scale war. It increased the risk of global conflict, and created the highly-escalated tensions which, even Justin Trudeau noted, resulted in 57 Canadian deaths in the tragic downing of a Ukrainian airliner over Tehran.
Unfortunately, Trudeau's new foreign minister, F-P Champagne, could not bring himself to criticize this foul US breach of international law and of Iraqi sovereignty. Instead, and despite the fact that Trump gave no forewarning of the illegal assassination to Canada, Champagne followed Trump's line of falsely claiming that Soleimani was a bad actor. However, Soleimani is widely regarded as a war hero because he led the fight to defeat ISIS and Al Qaeda in Iraq and Syria, and defended the people of Lebanon and Gaza against Israeli aggression.
One result of the assassination was the Iraqi Parliament's call for all foreign forces to leave Iraq. The government of Canada has about 500 soldiers stationed in Iraq. It's time to respect the wishes of the elected representatives of the Iraqi people, end what is now an illegal occupation, and "Bring Canadian Troops Home!"
The Trudeau government is part and parcel of the US Coalition in Syria and Iraq, supposedly to fight ISIS. Actually, this coalition, consisting of NATO countries and Arab monarchies, supported ISIS and Al Qaeda and was responsible for destabilizing the two countries, the deaths of hundreds of thousands of people, and turning millions of their citizens into refugees. We say to the Canadian government: "Hands Off Syria!", end the economic sanctions against Syria and Iran, and restore diplomatic relations with both countries.We also demand "Canada Out of NATO!" because, if Trump had invoked Article 5 of the Charter of NATO (North Atlantic Treaty Organization), after Iran bombed two US bases in Iraq in retaliation for Soleimani's assassination, Canada could have been dragged into war with Iran.
Thousands of demonstrators in Canada and the US have already taken to the streets to demand "No War on Iran!" You can join the Global Day of Protest, Saturday, January 25, 1 pm, in front of the Federal Building, 55 Bay Street North, Hamilton. [Snow date: Jan 26, 1 pm]
sponsored by:
Hamilton Coalition To Stop The War
endorsed by:
Hamilton & District Labour Council

Palestinian Association of Hamilton
>>SNOW DATE: SUNDAY, JANUARY 26, 1 PM, FEDERAL BUILDING<<<
JOIN THE FB EVENTS PAGE: https://www.facebook.com/events/1052874468392092/